Namustore
NAMU
by Paola Zancanaro
—
Italian born Paola Zancanaro; the designer, has a wealth of experience in the world of luxury goods. She has worked with prestigious designers, including Miuccia Prada, Giorgio Armani and Vivienne Westwood among others.
Paola has travelled to far-flung regions to create events, exhibitions and installations. She has a natural talent and passion for fusing ethnic looks with high fashion to create her own eclectic signature pieces. `Paola has a keen eye for beauty and an appreciation of the unique, which has led her to style some of the most glamorous women and men in the world for red carpet events. Paola now lives in Bali, Indonesia, where she creates the NAMU Collections.
Paola's favourite quote to describe the NAMU Collections is: "Simplicity is the ultimate sophistication" by Leonardo da Vinci.
The exotic beauty and reputation as the world's most durable leather, stingray's desirability is becoming increasingly less of an inside secret ... and NAMU proudly presents its Shagreen Collection.
The NAMU Shagreen Collection encompasses trans-seasonal handbags, clutches and accessories for women and men, including elegant travel wallets with coordinating currency purses and soft cases destined to become essentials in every women and men wardrobe. For evening NAMU showcases a capsule collection of "Minaudière".
NAMU colour ranges from the most sophisticated light grey, beige, midnight blue and oxblood to bright orange, raspberry and purple.
NAMU SUSTAINABILITY
Stingrays are neither endangered nor threatened, they are fished commercially as a primary food source and are found in abundance in the shallow, warm waters of the world, specifically throughout the pacific rim. The skin used to craft these elegant pieces is bought directly from Indonesian fishermen, who would ordinarily dispose of it after preparing the meat for sale at the local markets.
TECHNICAL
The inherent qualities of the stingray skin make it so durable that it is resistant to water, fire, puncture and tearing. The tanning process makes the skin pliable and softer without damaging durability. The natural coloring procedure of stingray leather ensures that the true final shades obtained may vary rendering each piece unique.
All our pieces are made by hand and are made only for you.
WHERE TO FIND NAMU ?
in Bali, Seminyak (Namustore) or online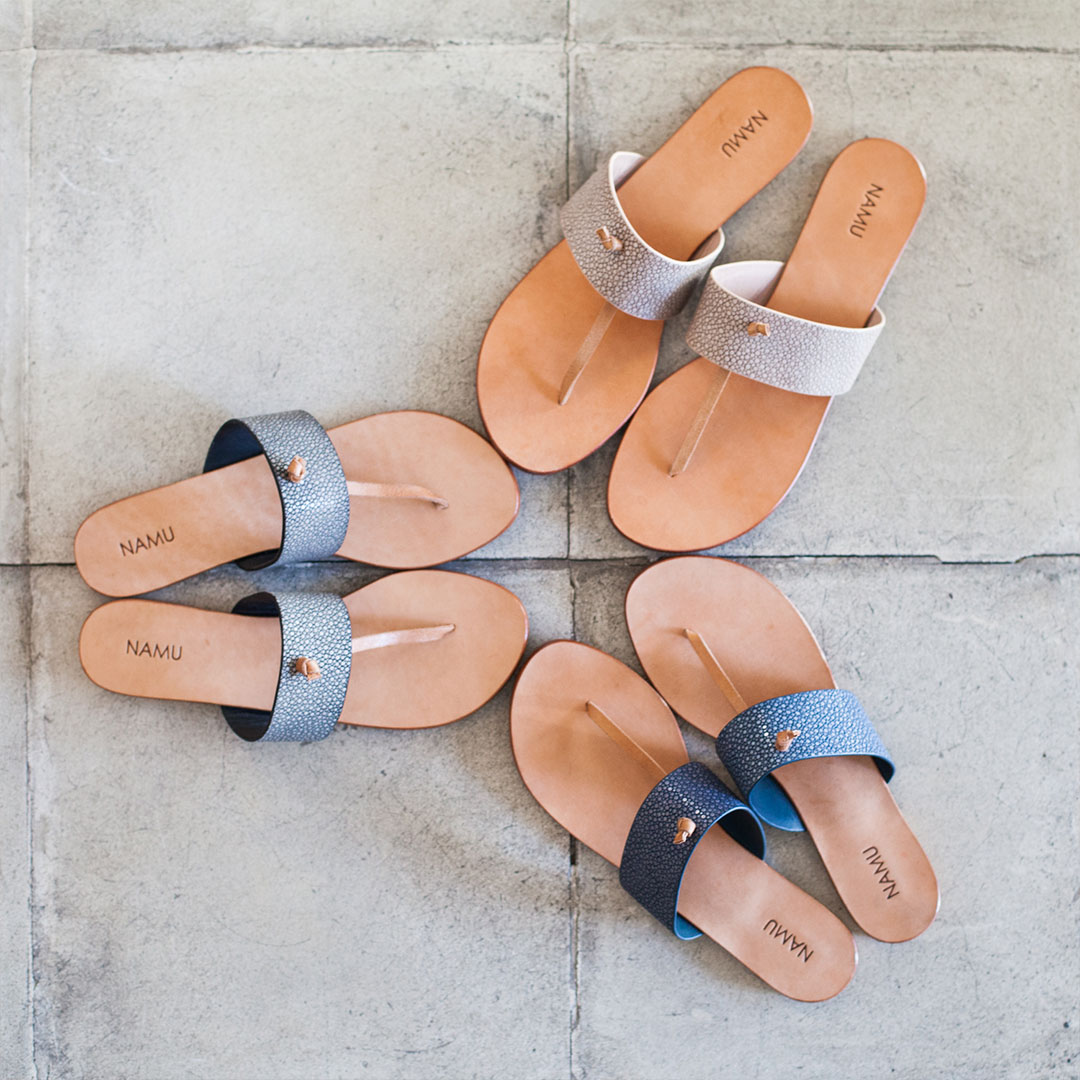 Credit : NAMU STORE
If you enjoyed this article, you should check out our article about Charlotte Simon.